For DTT Surveillance: JMBM Represents DTT Surveillance in Recapitalization Sponsored by BV Investment Partners
Jeffer Mangels Butler & Mitchell LLP (JMBM) is pleased to announce the successful completion of the leveraged recapitalization of its client, DTT Surveillance (DTT), in a sale of control transaction that was sponsored by BV Investment Partners.
JMBM partner Michael Steuch led the JMBM deal team.
Founded in 1999, DTT is a leading provider of managed services and business analytics for the restaurant and hospitality industries. The funding will enable DTT to accelerate its growth and facilitate its expansion in other areas and markets.
JMBM previously represented DTT on a 2009 growth equity financing, with the proceeds helping to promote DTT's impressive continued growth over the last several years, culminating in the recent transaction with BV Investment Partners.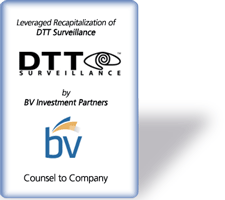 About DTT Surveillance
Headquartered in Los Angeles, California, DTT provides digital video surveillance solutions to the restaurant and hospitality industries. DTT was founded in 1999 by Sam Naficy, leveraging the power of emerging digital technology to support the needs of a broad base of clientele. Some of the world's most popular and respected restaurant brands use DTT, including McDonald's, Subway, Dairy Queen, Burger King, Dunkin Brands, and YUM Brands, among others. Please visit http://www.dttusa.com to learn more.
About JMBM's Corporate Transactional Group
JMBM's Corporate Transactional Group represents private and public companies, as well as funds and other capital sources, in a wide variety of transactional matters including mergers, acquisitions, divestitures and financings. Our lawyers provide start-to-finish assistance with the structuring, negotiation, documentation and closing of the deal, using the firm's full resources for everything from intellectual property issues to tax-efficient deal structures.