For NAXOS Capital Partners: JMBM Represents NAXOS in $58.7 Million Private Placement
Jeffer Mangels Butler & Mitchell LLP (JMBM) is pleased to announce that its client, NAXOS Capital Partners, was the lead investor in a $58.7 million private placement by Amyris, Inc. (NASDAQ: AMRS), a leading renewable chemicals and fuels company.
Co-investors include prominent private equity firms, strategic investors and sovereign wealth funds.
Attorneys on the JMBM team included David B. Stern.
JMBM has also represented NAXOS as the lead investor in the $45 million Series B and $35 million Series C growth equity financing of BioAmber Inc., and as the lead investor in the $100 million Series C and $50 million Series D financing of Elevance Renewable Sciences Inc.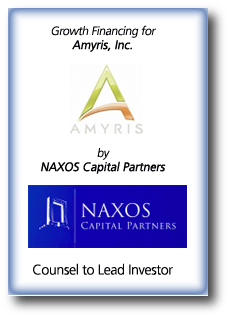 About NAXOS Capital Partners
NAXOS Capital Partners is a Luxembourg-based private equity group focused on acquiring and developing small- to lower and mid-market companies with unique intellectual property or market positions in renewable chemistry and energy.
About JMBM's Corporate Transactional Group
JMBM's Corporate Transactional Group represents private and public companies, as well as funds and other capital sources, in a wide variety of transactional matters including mergers, acquisitions, divestitures and financings. Our lawyers provide start-to-finish assistance with the structuring, negotiation, documentation and closing of the deal, using the firm's full resources for everything from intellectual property issues to tax-efficient deal structures.