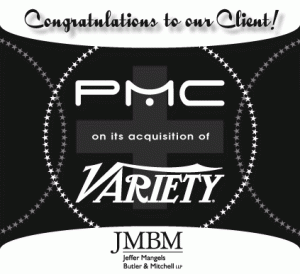 For Penske Media Corporation (PMC): JMBM Represents PMC in Acquisition of Variety and Related Assets from Reed Elsevier 
Jeffer Mangels Butler & Mitchell LLP (JMBM) is pleased to have represented long-time client Penske Media Corporation (PMC) in the successful acquisition of the legendary entertainment industry trade publication Variety, from Reed Elsevier.  JMBM also assisted PMC with the negotiation of a financing package with Third Point, LLC.
JMBM partner Michael Steuch led the deal team.
Founded in 1905, Variety is the premier entertainment industry trade magazine, providing entertainment news, reviews, reports and stories to over 50 countries. Variety also maintains a significant online presence and sponsors a series of entertainment industry events and conferences.
About Penske Media Corporation

PMC
 is a leading digital media company founded by Jay Penske in 2004. PMC owns a unique and growing portfolio of lifestyle brands that provide the web's best original content in categories including entertainment, sports, breaking news, media, finance, tech, health, shopping, fashion, beauty and automotive.
BGR, DeadlineHollywood, Variety, HollywoodLife, Movieline, TVLine, BGR, OnCars and India.com are all part of the expanding PMC portfolio. In addition, PMC also produces several successful annual Award shows including: D.I.C.E Conference, Young Hollywood Awards, Hollywood Style Awards, and Breakthrough of the Year Awards.
PMC's rapid growth and reach is providing unique content from a superior editorial team to an ever growing audience of more than 83 million unique visitors monthly per Comscore.
For more information on PMC and its brands, please visit www.pmc.com.
About JMBM's Corporate Transactional Group 
JMBM's Corporate Transactional Group represents private and public companies, as well as investment funds and other capital sources, in a wide variety of transactional matters including mergers, acquisitions, divestitures and financings.  Our lawyers provide start-to-finish assistance with the structuring, negotiation, documentation and closing of the deal, using the firm's full resources for everything from intellectual property issues to tax-efficient deal structures.