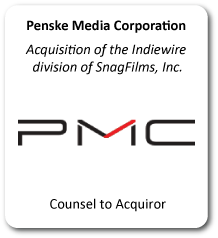 JMBM is pleased to announce its representation of Penske Media Corporation in acquiring Indiewire, a leading online entertainment news source that has attracted a loyal following of filmmakers, industry leaders and fans of independently-produced movies and TV content.
"Indiewire has a rich history as one of the early innovators in digital media — I've long admired the company and its team's dedication to informing and breaking the most essential news in independent film," said PMC Chairman and CEO Jay Penske. "Bringing Indiewire into the PMC family is an exciting opportunity to further ignite a pioneering brand while advancing its coverage of the TV industry, digital, and emerging OTT platforms."
JMBM partner Michael Steuch led the legal team that represented PMC.
About Penske Media Corporation
Penske Media Corporation (PMC) is a leading digital media, publishing, and information services company that engages with audiences across the web, television, mobile, print and social media. PMC's owned and operated brands (including Variety, Deadline and WWD) reach more than 170 million visitors monthly (comScore, 2015), and PMC was recently named one of the Top 100 Private Companies in the United States and North America
About JMBM's Corporate Transactional Group 
JMBM's M&A Group represents private and public companies, as well as investment funds and other capital sources, in a wide variety of transactional matters including mergers, acquisitions, sales and financings. Our lawyers provide start-to-finish assistance with the structuring, negotiation, documentation and closing of the deal, using the firm's full resources for everything from complex intellectual property issues to tax-efficient deal structures. For more information, www.JMBM.com.